African hunting safari cost in Namibia
Hunting trip Africa prices (Namibia)
How much does an African hunting safari cost?
Planning a hunting trip to Namibia can be an exciting experience, but it's important to know in advance what costs you'll be facing. In this post, we'll go over the various average costs you can expect to incur on a hunting trip to Namibia – from airfare and lodging to permits and trophy fees.
So if you're thinking about taking a hunting safari in Africa, read on to get all the information you need!

Flights to from USA to Namibia
Low season: 1.500 – 2.000€*
High season: 1.800 – 2.500 €*
*Return flight
The first cost you need to consider when planning a hunting trip to Namibia is the airfare. A return flight from USA to Namibia usually costs between €1.500 and €2.000 in the low season. In the high season, a flight costs between €1.800 and €2.500.
Flights to Africa can be expensive, so it is important to book about 3 months in advance and look for the best deals.
One way to save on airfare is to travel in the low season (March-April or October-November).
When looking for flights to Namibia, it is important to compare prices on different flight portals. Some of the best flight portals to find cheap flights are Google Flights, Skyscanner and Kayak.
It is often cheaper to fly during the week.
Visa for e.g. American citizens
American citizens don't pay for a tourist visa to enter Namibia – 0€. The visa is valid every year for a maximum of 90 days (three months).
The cost of a
hunting lodge
Daily rate: 200 – 320 €
Accompanying person: 100 – 120 €
The cost of the hunting lodge per hunting day and person is similar to the daily rate, because it includes not only the accommodation itself, but usually all meals, laundry service, airport transfers, the use of the off-road vehicle on the hunt and room service. The average daily rate for a hunting safari in Namibia ranges from 200 € to 320 € per person, depending on the desired hunting guide (1:1, 2:1,…), the size of the group and the number of professional hunters. Non-hunters, accompanying persons and rest days are charged with approx. 100 € and 120 € per person and day.
Depending on the game
See "Game species"

Only two trophies of the same species may be taken per hunter
Depending on the game species, shooting fees or "trophy fees" start at 250 €. These fees are paid to the hunting farm. On our Overview page of huntable game species you will find a price range for these trophy fees of each species. Included in this price is the so-called "Hunting Permit", which is required for the export of the trophies. This personalized permit is applied for and organized by the hunting farm in advance. Address, passport copy and hunting period are required. The permit remains on the farm and is then handed over to the shipping company with the trophies in their raw state. 
Import & export own rifle per flight: 250 €
Rental rifle in NAM:
from 25 € – 50 €/day
Ammunition: from 5 €/shot
Currently the import & export of rifles (250 € per flight) costs with the airline. If you fly via South Africa to Namibia, there is an additional +/- 80 € handling fee.
Alternatively, you can rent a rifle from the hunting lodge for your hunting trip. A rental rifle in Namibia costs about 30 € per day. Ammunition costs about 5 € per shot.
Travel insurance: 13 €
Travel cancellation: 130 €
Liability: usually trips abroad within a certain travel duration are included in the standard insurance (ask in advance!)
Travel insurance is very useful and not expensive. With about 13 € you can travel up to 56 days per year insured. A travel cancellation insurance costs about 130 € per year.
Also a liability insurance should not be missing. It is best to ask your current insurance company whether travel abroad is already included in the tariff.
Alcoholic beverages:
Approx. 2-3 €/drink
Tip: 10 %
Telephone charges (SIM card with 3GB):

2 €/week
Activities: depending on activity
On site you can expect additional costs, such as
Alcoholic beverages
Tips (In Namibia a tip of 10% is customary)
Telephone charges (For example, an all-inclusive package on the MTC network costs about 2 € per week)
Non-hunting activities, such as horseback riding, mountain biking, farm tours, excursions, etc.
Continuation of the journey after the hunting vacation
You can also travel around Namibia after your hunting vacation. Namibia is a beautiful country with lots to see and do – some of the most popular destinations are Sossusvlei, Damaraland, Etosha National Park and Swakopmund.
The raw treatment of the trophies (stripping, cleaning, bleaching or salting the skins) is usually carried out by the hunting farm. The trophies are then taken to the taxidermist or to the shipping company.
Depending on the client's wishes, the taxidermy of the animal takes place either in Namibia or in your country.
Here you can see how your
➜ trophy gets to your home.
Forwarding agency/shipping of trophies
Large cost factor. Price depends on trophy type, weight & size, and quantity.
The price depends on the size, weight and number of trophies (packing material, collective air freight costs, transport insurance, health certificates…). An individual offer must be obtained.
Click here to learn how your
➜ trophy gets to your home. 
All prices for a 7-day hunting trip to Namibia with two trophies
Arrival and departure day (100 € per day) incl. airport transfer
5x hunting days 1:1 (290 € per day) incl. accommodation
Trophy fees of 2 hunting trophies (oryx and hartebeest)
Trophy taxidermy (skull on board) Oryx + Hartebeest
Hunting trip in total for 7 days
above price excl. shipping (ATTENTION: you will have to pay here!), insurances, variable costs, like alcohol, SIM cards, etc.
Overall, a hunting trip to Namibia can cost between 5,500 and 8,000 euros on average, depending on how long your stay is, what kind of hunting experience you want to have, and what kind of lodge you choose. However, this is still relatively cheap compared to other African countries. So if you're looking for an affordable hunting destination, Namibia should be at the top of your list.
If you have any questions about planning a hunting trip to Namibia, feel free to leave a message below and we'll do our best to help. Thanks for reading!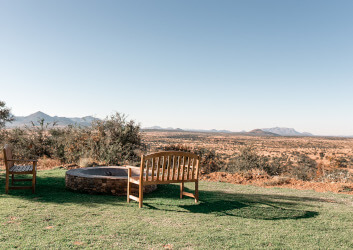 Khomas hunting farm #1
✓ perfect for up to 4 hunting friends or couples
✓ elegant chalets with wide panoramic views
✓ varied & wildlife rich habitat for stalking
✓ horseback safaris through the African bush
Find hunting trips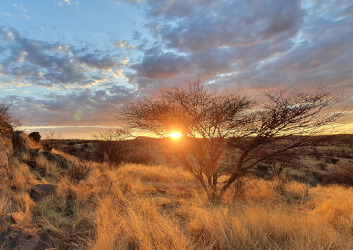 Khomas hunting farm #2
✓ perfect for families & small groups
✓ exciting terrain for stalking in the Khomas highlands
✓ variety of activities (e.g. horseback safari & pool)
✓ cozy farmhouse style and highly praised cuisine
Find hunting trips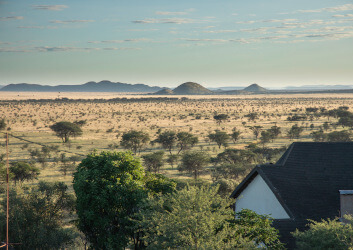 Khomas hunting farm #3
✓ perfect for two hunters
✓ hunting experience in the fascinating Kalahari foothills with vast savannah areas in the midst of rolling hill ranges
✓ rustic farmhouse style or adventure wildcamping possible
Find hunting trips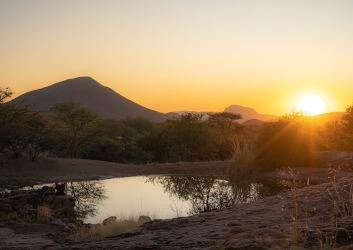 Erongo hunting farm #4
✓ perfect for small groups & families
✓ outstanding cuisine made from ingredients harvested on site
✓ comfortable farmhouse style with pool
✓ great biodiversity in open savannah areas and rugged mountains

Find hunting trips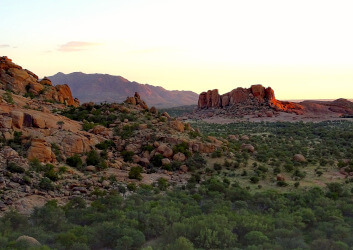 Erongo hunting farm #5
✓ perfect for a maximum of two adventurers who love the rustic & traditional hunt
✓ natural hunting areas (without cattle/farm operations)
✓ accommodation in safari tents
✓ hunting moments in unique nature that leave a lasting impression
Find hunting trips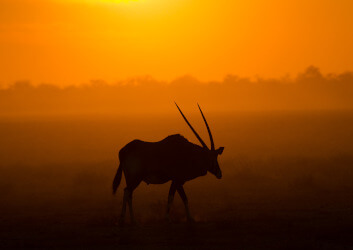 Khomas hunting farm #6
✓ perfect for a maximum of two hunters incl. accompanying persons or families
✓ special combination possibility of hunting on the farm area AND exclusive concession areas
✓ accommodation in apartments or fully equipped safari tents
Find hunting trips
This hunting guide will help you make the right decision for your hunting trip. Need more information?