In Namibia, sustainable hunting is an important part of the economy and critical to the continued existence of many species.
The stakeholders: MEFT, NAPHA, hunting farms, concessions & the hunting guests.
The Namibian Ministry of Environment and Tourism (MEFT), in close coordination and cooperation with the NAPHA Hunting Association, is responsible for managing the country's natural resources. This includes setting regulations for hunting and ensuring that hunting is conducted in a sustainable manner. The hunting sector is housed in the MEFT. The ministry promotes hunting tourism to strengthen this economic sector.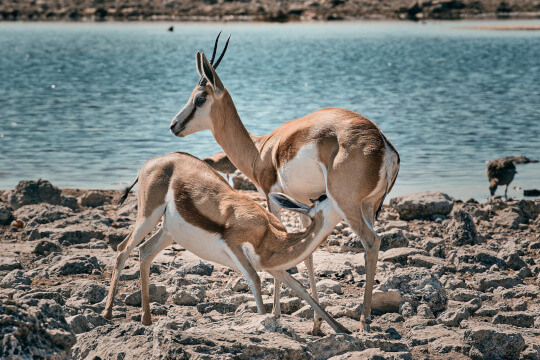 Rules and regulations for sustainable hunting
NAPHA is the Namibian hunting association that represents the interests of the Namibian hunting industry. NAPHA works with the government to ensure that hunting is conducted in a sustainable manner and that the industry is well regulated.
The strict rules and regulations ensure that hunting is practiced in a way that does not harm wildlife and their habitats.
Hunters who use sustainable and ethical hunting methods are especially welcome in Namibia.
The aim of this page is therefore to educate you about this complex issue, to create more transparency, to focus on sustainability and thus to help you decide to choose a hunting farm that sets its priorities and focus on the right values.
10 key elements for hunting sustainability in Namibia
Nachhaltigkeit in der Jagd ist ein komplexes und vielschichtiges Thema. Es geht darum, durch solide Managementpraktiken gesunde Tierpopulationen aufrecht zu erhalten. Folgende Schlüsselelemente sind dabei entscheidend:
Trophy hunting takes place only in the months between February and November. During the day, hunting is only allowed from 30 minutes before sunrise to 30 minutes after sunset.
Size of the game population
Question whether hunting is taking place in areas with healthy, sustainable wildlife populations. Hunt only animals that are part of sustainable populations.
Only hunt animals that are male and have reached their "past prime" status.
Hunting methods
after Fair Chase
The "Fair Chase" hunting method states: It should never be hunted with headlights, at night or from a vehicle. Only standing game may be hunted.
Hunting fees can vary depending on population size, demand and location of the hunting farm, therefore there is usually a cost range. From "special offers" or particularly cheap offers on animals should be refrained!
Trained professional hunting guide
Hunt only with registered professional hunting guides, because they know what criteria to use to evaluate hunting trophies and which ones may be hunted selectively.
NAPHA registered hunting farm
Make sure that the hunting farm is a member of the Namibian Professional Hunting Association.
In Namibia, too, different animals have different habitats. These depend on vegetation and other factors. Here you can find information about where the game is indigenous. The animals you hunt should be indigenous to the area.
Involvement of the communities
Professional hunting farms provide jobs for the local population. Animals are fully utilized – so the meat of the animal you hunt provides not only the employees but also their families.
In this way, poaching is also prevented, because the local population is offered an incentive to protect wild animals, as they profit from it.
Unfenced, or only livestock-proof fenced hunting farms guarantee that the game can move freely and thus the gene pool is preserved.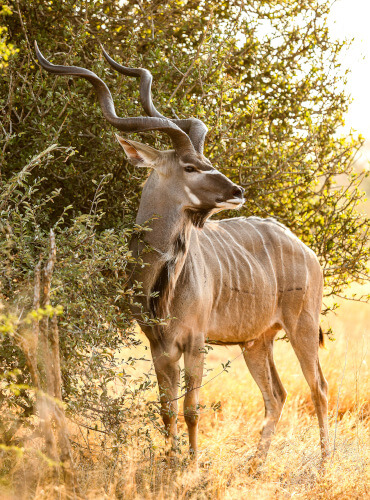 What is actually meant by a "mature" trophy?
The term "past prime" and its significance for sustainability
"Past prime" means that hunters exclusively remove older animals from the population that have already passed their productive period. With the selective hunting of animals in "past prime" status, the remaining animals have the best chance of survival: by removing older animals, the young animals can grow up and contribute to population maintenance.
On this page we have compiled an overview of characteristics by which you can recognize when it is a particularly old individual.
White blesbok, white spingbok, golden wildebeest
Is genetically bred game in line with sustainable hunting?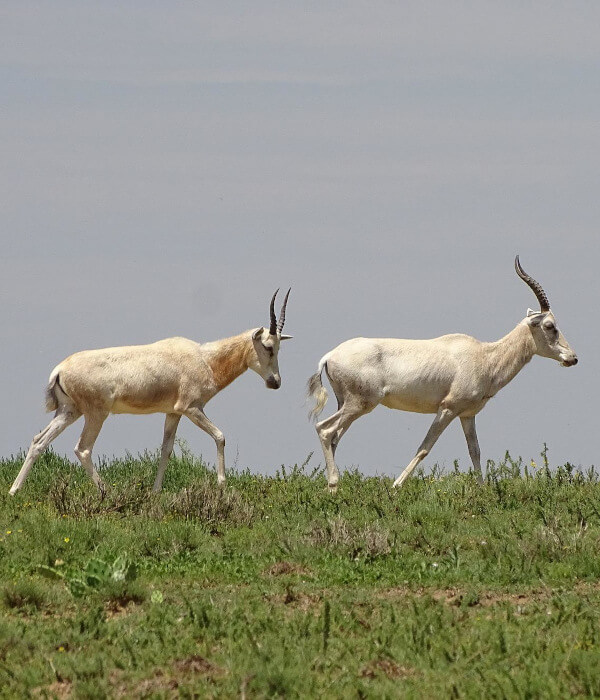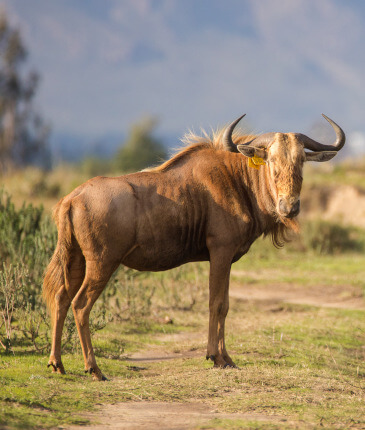 NO.
Whether golden wildebeest, white blesbok, white springbok & co. – this unnatural manipulation of exotically bred wild animals is only about profit and not about nature conservation. These not naturally occurring variants are highly valued – especially by hunters in neighboring South Africa. They are bred / bought in, released and hunted at a high price. Exotic breeding does not contribute to the population because it is a non-reproductive mutation.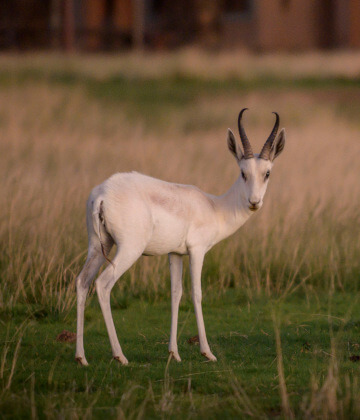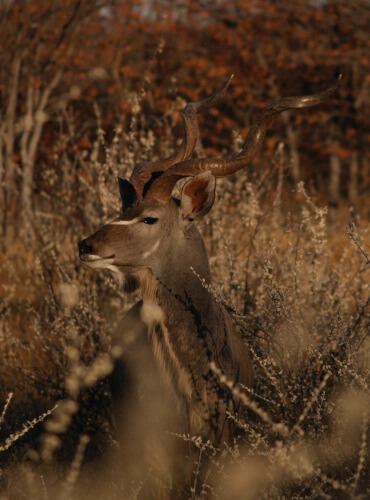 Is the term trophy hunting even appropriate for Namibia?
"Selective Hunting" instead of "Trophy Hunting".
NAPHA advocates that the term trophy hunting in Namibia should be renamed "Selective Hunting". This term best expresses the state's aspiration to establish hunting as an authoritative and sustainable tool for conservation in Namibia. The word trophy hunting is criticized because it focuses solely on the size of the trophy and neglects the requirement for aspects of sustainability. In fact, when animals are hunted that are in their most reproductive prime life stage or even younger, this has serious consequences for the gene pool of the hunted species. Therefore, an "age-related measurement system" was introduced by NAPHA with the aim of incentivizing the hunting of truly old animals that are past their prime. The Namibian Professional Hunting Association has established hunting standards for what is considered a "mature" trophy.  As an incentive, NAPHA awards hunters and hunting farms for particularly mature trophies. The basis for determining whether an animal has reached "past prime" status is the "age related measurement system."
Indigenous game in "past prime" status
Which game may be hunted sustainably in Namibia?
When hunting, a good hunting guide will make the selection for an old animal. In doing so, the hunting guide, who knows the wildlife population of the corresponding hunting farm, takes into account which population control is actually necessary and which species is thus eligible for shooting in the first place.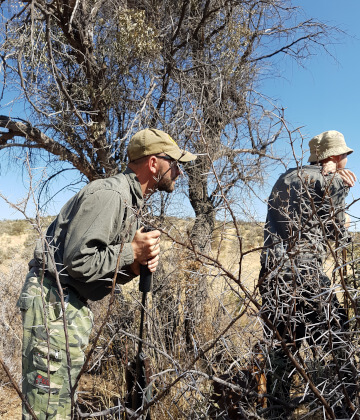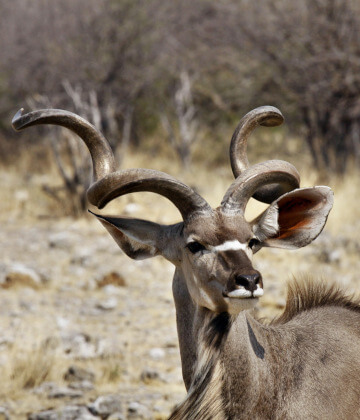 A few years ago, for example, there was an outbreak of rabies, which led to a massive collapse in the kudu population. This has repercussions, even today, because there are currently hardly any kudu bulls that have reached the appropriate maturity level "past prime". In some areas, hunters have to be patient until the population has recovered and it is ethically justifiable to intervene in the population through selective hunting.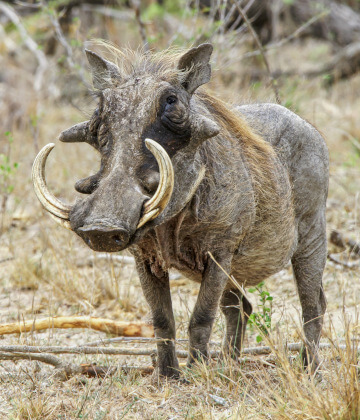 Another example is the massive collapse in the warthog population to the great drought of 2019. Again, it will take a few years for the warthog population to recover.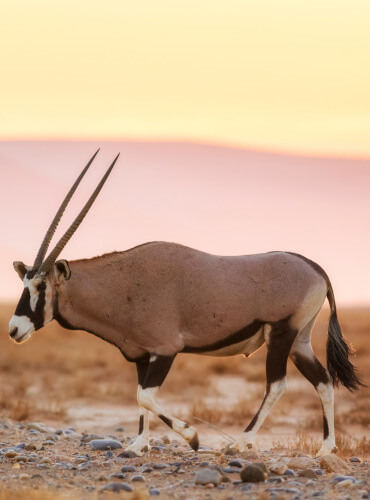 What does Namibia want to achieve with the "age related measurement system"?
The goal: Preserving natural resources for future generations
The "age related measurement system" initiated by the Ministry of Environment and Tourism & NAPHA has the following objectives:
 to counteract the hunting of immature animals
 to create genetic sustainability
to show that sustainable hunting makes an important contribution to nature conservation
Instead of "the biggest: the oldest" – to value individuals more through the quality characteristic "aging" and to strive for the achievement of "past prime" status in hunting. In addition, the importance of the often worn hunting mementos of particularly old animals is reinforced by the incentive system.
Nevertheless, it must be added that the "age related measurement system" is not sufficient as a sole solution. At the same time, a responsible, sustainable quota system already exists for many wild animals.
Put & Take is not sustainable hunting
What does "put & take" actually mean?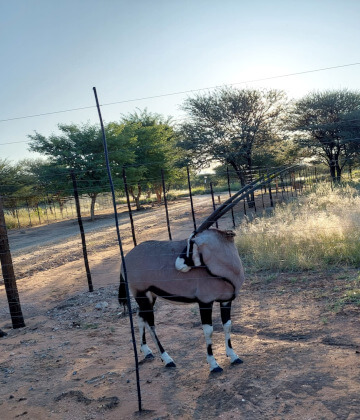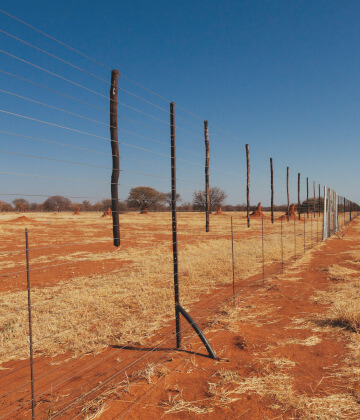 When choosing a hunting farm, you should make sure that no "put & take" is practiced. "Put & take" means that animals are bred to be released for shooting in a wildlife-proof fenced area. This has nothing to do with sustainable wildlife management.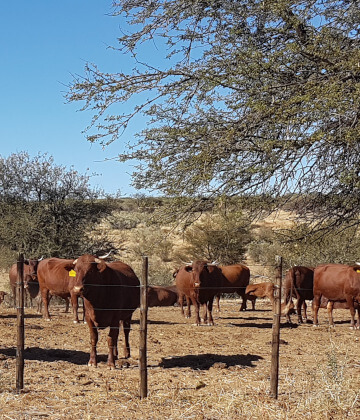 Different types of fences.

You may come across a fence or two on your hunt and think – "Creel hunting? That's unethical!"
The "livestock proof" fence shown in this picture is not game proof, meaning the game can still move freely. It merely keeps cattle and horses in a specific area and is used for grazing management. The game animals either gracefully jump the low fence or crawl under the passes made by the farmers.
Therefore, it is important to know that this "cattle-proof" fence is not a game-proof fence, i.e., a gate hunt.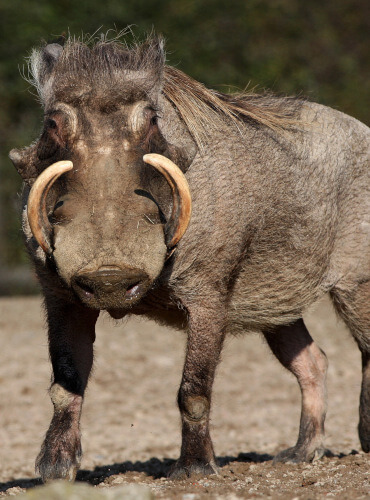 Why does trophy hunting have such a bad reputation?
The consequences of unregulated, unsustainable hunting
The consequences of unregulated, unsustainable hunting are not only responsible for the bad image of hunting, but – and this is much worse – fatal for the game population.
Opponents of trophy hunting criticize the fact that trophy hunting selects
the largest and strongest animals are selected, which are particularly important for passing on their gene pool to subsequent generations
an imbalance in the distribution of sex and age is created, further complicating the reproduction of the species
These arguments are invalidated by regulated and selective hunting of particularly old animals that have already fulfilled their role in the gene pool.
This hunting guide will help you make the right decision for your hunting trip. Need more information?