Here's how to find your hunting trip to Namibia on a sustainable hunting farm:
We take a closer look at sustainable hunting in Namibia
Endless expanses, nature in its most pristine form, fascinating wildlife and warm hospitality characterize Namibia as a popular destination for a hunting trip. Hunting farms and outfitters are plentiful, but where exactly should your hunting trip go?
The goal of this site is to provide you with comprehensive and descriptive information to help you make the decision to choose a hunting farm that will have a positive and sustainable impact on conservation in Namibia – so that you can have an unforgettable hunting trip and help preserve the precious wilderness areas for future generations.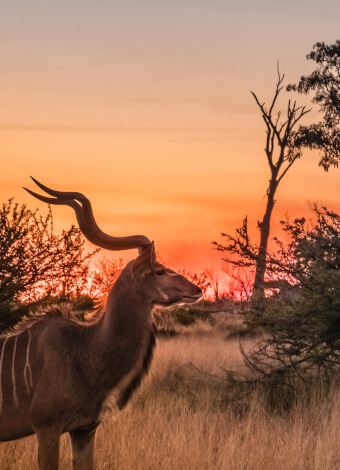 Indigenous game in Namibia
You want to know which animals can be hunted selectively in Namibia? You want to know which criteria you can use to recognize an animal in "past prime" status and in which region which free-ranging game is indigenous to Namibia? Here you get all the information about the diversity of wildlife in Namibia and get an overview of the huntable species in Namibia.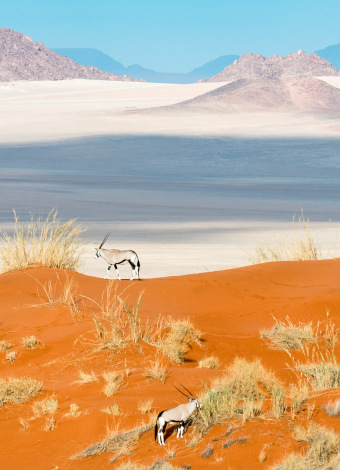 Hunting areas in Namibia
Pristine expanses - Namibia is one of the most sparsely populated countries in the world with a population of 2.5 million. This means: lots of nature, lots of wilderness, lots of adventure - absolute freedom! In Namibia they say: the north has the animals, the south has the landscapes. To what extent this is true and which hunting areas you can visit in Namibia, you can read here.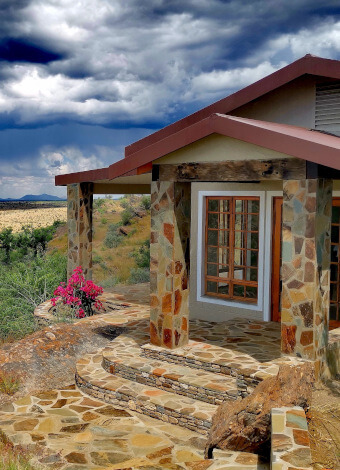 Hunting farms in Namibia
Hunting in the south or north? The Khomas Highlands or rather the green Caprivi Strip? Fenced or unfenced? Luxurious or familiar? There are many different hunting farms in Namibia. All differ in landscape, facilities, biodiversity and more. Read here what to expect on a hunting farm in Namibia.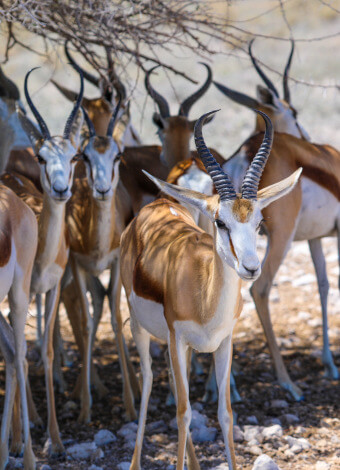 Sustainable Hunting in Namibia
Terms like "hunting and hunting ethics" are on almost every website. But what does sustainability mean in relation to Namibia? What is the economic and ecological relevance of hunting for the country and on the basis of which criteria does a hunting farm act "ethically" and sustainably at all? What you should know about sustainable hunting in Namibia, you will find here.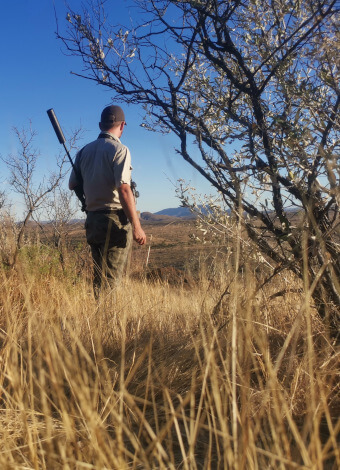 Hunting types in Namibia
Hunting in Namibia is different from typical hunting in Germany. The type of hunting depends on the game to be hunted. The most common way to hunt game like Oryx, Zebra or Hartebeest is stalking, the so called "Fair Chase", but also sitting game and the original bow hunting is practiced in Namibia. How a typical hunt goes, you can read here.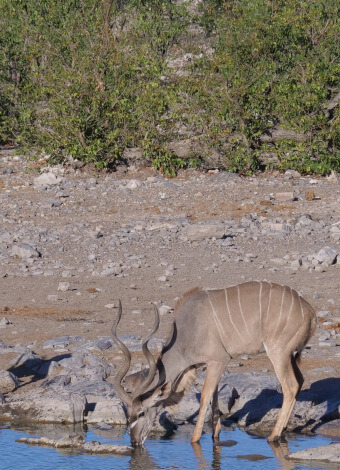 Hunting season in Namibia
The hunting season in Namibia runs from February 1 to November 30. Often hunting guests are surprised how cold it can actually get "in Africa". Although Namibia is one of the sunniest countries in the world, the weather varies throughout the year. r away . On about 300 days a year the sun shines here, but that does not mean that only a Tshirt and shorts are needed.
What makes free-range hunting in Namibia special?
10 reasons for a hunting trip to Namibia
Whether via Johannesburg, Doha or Addis Ababa – there are many regular, good flight connections to Windhoek.
If you're flying from Europe, you don't need to worry about jet lag! The maximum time difference is 1h
Namibia has a very pleasant climate overall. Depending on the region, the rainfall, the season and the altitude, it is excellent to hunt at any time.
Not only the international air network, but also the road network is excellently developed. The only thing to note is that the majority of the roads are gravel roads.
What is especially loved about Namibia is the diversity of the country – it is wild and untouched. Whether dunes, mountain landscapes, the red Kalahari, the green Caprivi Strip, savannahs or bushland – Namibia has it all.
Whether herbivores, predators, birds, reptiles – the biodiversity in Namibia is impressive, the survival of different animals fascinating. Have a look here, which game species are native & you can hunt in Namibia.
Due to the historical development, there are still many German-speaking people in Namibia. All farms also speak English, as it is the official language. Afrikaans is also sometimes spoken: a language very close to Dutch.
Again and again people interested in Namibia ask the question: "Is Namibia a safe country to travel?". The answer: Yes, Namibia is a safe country. Of course, there are a few basic rules in certain areas that should still be followed. 
For hunting enthusiasts Namibia offers the following types of hunting: stalking, hide hunting and bow hunting. For many hunters it is an unforgettable experience to go stalking in the original African bush.
The objective is to promote and conserve the biodiversity of Namibia's environment through the sustainable use of natural resources for the maximum social and economic benefit of its citizens.
Free-range indigenous Namibian game species at a glance
Discover which indigenous, free-range game species are found in Namibia
The goal: the preservation of the fascinating nature and its wildlife.
This includes hunters being educated before they travel to Namibia to hunt, asking the right questions and knowing where their financial input is going. Our goal is to help you choose a sustainable hunting farm that strictly adheres to legal requirements and ethical aspects, thus contributing to the conservation of nature and habitats in a sustainable way.
A truly atypical motivation, how we came to the creation of this site, you can read here: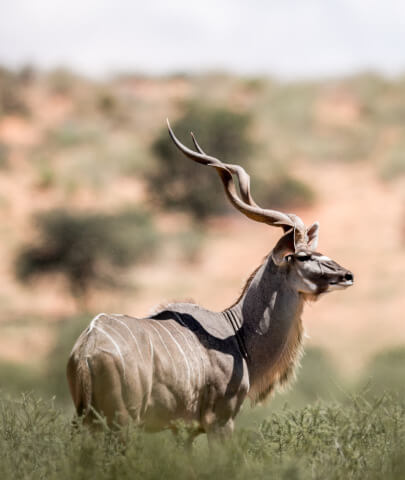 Hunting experiences that connect you with nature
You can count on hunting sustainably only in unfenced, pristine areas with native, free-ranging game.
A trip that will delight you and your family
We also keep an eye on your companion(s)! For unforgettable experiences together – during the hunting stay and also on a trip afterwards.
Same prices as at the hunting farm – more service
We do not charge a service fee! You can be sure that you will not pay a cent more than when booking directly through a hunting farm in Namibia.
Eternal research is a thing of the past
Whether weapon import, round trip, taxidermist, wishes of your company, equipment and much more. – our advice goes far beyond the booking of the trip.
This hunting guide will help you make the right decision for your hunting trip. Need more information?