Entry requirements, rifle importation & trophy shipping from Namibia
Useful information for entering Namibia
Are there direct flights to Namibia?
Direct flights
Whether via Johannesburg, Doha or Addis Ababa - there are many regular, flight connections to Windhoek
How long is the flight to Namibia?
Flight duration
It takes about 13-18 hours on a flight from the UK. From the US it takes about 30 hours to get to Namibia, but only because you have to do an overnight stop in Johannesburg (South Africa)
How long is a tourist visa valid in Namibia?
Tourist visa
Free tourist visa for German, American and British citizens for 90 days per calendar year is stamped on entry
What should I look for in my passport?
Passport
The passport must have at least two free pages and must be valid for at least 6 months after the trip.
Which insurances do I need?
Insurance
Third party liability, international health insurance (incl. separate information about cost coverage in case of COVID19 illness), travel cancellation if necessary
What do I need to pack for a hunting trip?
Packing list
Click here for a complete packing list for your hunting trip to Namibia
Which calibre is suitable for Namibia?
Choice of the ideal hunting rifle in Namibia (Africa)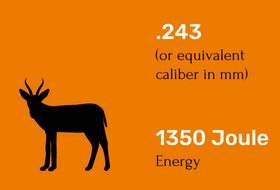 For small game & antelope species, such as:
Duiker
Steenbok
Damara Dik-Dik
Klipspringer
Springbok
.243 (or equivalent in mm) / energy 1350 joules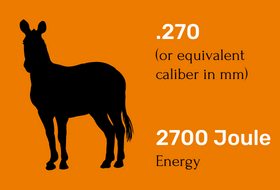 For medium sized game & antelope species, such as:
Oryx
Hartebeest
Wildebeest
Warthog
Kudu
Impala
Waterbuck
e.g. following calibers
.270 Win. Mag
7mm Rem. Mag.
.308 Win.
.30-06 Springfield
.300 Win. Mag.
.300 H&H
with stretched trajectory in wide-open terrain
For Eland and Zebra, the following calibers are suitable, for example
.300 Win. Mag (& up)
9,3 x 62
8 x 68 S
.375 Win. Mag.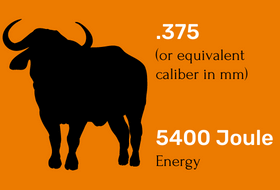 For big game ("dangerous game") such as:
.375 (or equivalent in mm) & up / energy 5400 joules
In addition, we recommend a rifle scope with a magnification of four to six.
Handguns and semi-automatic or fully automatic weapons are not allowed.
Taking your own firearm into Namibia
Can I take my firearm into Namibia? - Import of firearms into Namibia
Can I hunt in Namibia without a hunting license?
Yes, hunting without a hunting license is possible in Namibia. You do not need a hunting license from your home country.

Foreign hunters are only allowed to hunt with a government licensed hunting guide.
The hunting permit (hunting license) is applied for in advance by the hunting farm per hunting guest and issued by MEFT (Ministry of Environment & Tourism).
How much does it cost to take my rifle to Namibia?
The cost varies depending on the airline. The transport of rifle costs on average about 250 € per flight i.e. 500 € for outward & return flight.
Please always check with the airline in advance regarding the current rifle import regulations.
Can I enter Namibia with my own hunting rifle?
Yes, you can bring your own hunting rifle to Namibia. Self-loaders and handguns are not allowed. You will receive a form upon entry, which you must fill out. Alternatively, you can download this form here and fill it out in advance:
Please consider:
A maximum of 60 rounds of the ammunition associated with the specific caliber may be imported per hunting weapon
Rifle must be transported separately from ammunition. Ammunition must be stowed in the check-in baggage in a lockable container suitable for the ammunition.
Rifle must be transported in a sturdy, lockable gun case.
Please label all your luggage visibly and legibly.
You can also borrow a rental rifle from the hunting farms. The cost is about 30 € per day and 5€ per shot.
These farms offer a rental rifle for your hunting trip in Namibia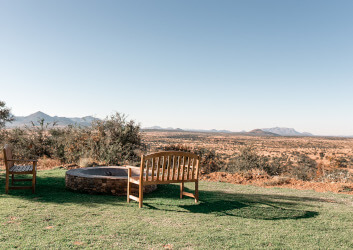 Khomas hunting farm #1
✓ perfect for up to 4 hunting friends or couples
✓ elegant chalets with wide panoramic views
✓ varied & wildlife rich habitat for stalking
✓ horseback safaris through the African bush
Find hunting trips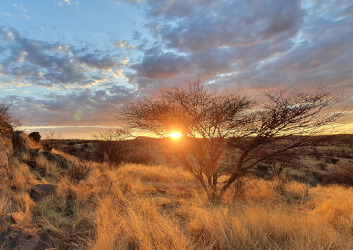 Khomas hunting farm #2
✓ perfect for families & small groups
✓ exciting terrain for stalking in the Khomas highlands
✓ variety of activities (e.g. horseback safari & pool)
✓ cozy farmhouse style and highly praised cuisine
Find hunting trips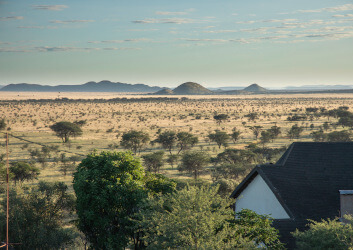 Khomas hunting farm #3
✓ perfect for two hunters
✓ hunting experience in the fascinating Kalahari foothills with vast savannah areas in the midst of rolling hill ranges
✓ rustic farmhouse style or adventure wildcamping possible
Find hunting trips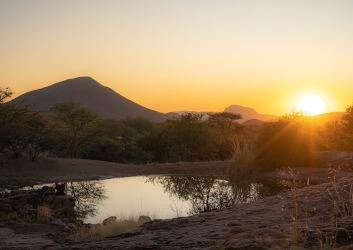 Erongo hunting farm #4
✓ perfect for small groups & families
✓ outstanding cuisine made from ingredients harvested on site
✓ comfortable farmhouse style with pool
✓ great biodiversity in open savannah areas and rugged mountains

Find hunting trips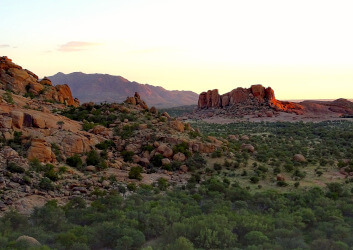 Erongo hunting farm #5
✓ perfect for a maximum of two adventurers who love the rustic & traditional hunt
✓ natural hunting areas (without cattle/farm operations)
✓ accommodation in safari tents
✓ hunting moments in unique nature that leave a lasting impression
Find hunting trips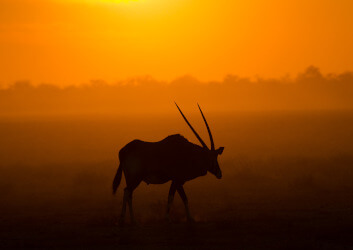 Khomas hunting farm #6
✓ perfect for a maximum of two hunters incl. accompanying persons or families
✓ special combination possibility of hunting on the farm area AND exclusive concession areas
✓ accommodation in apartments or fully equipped safari tents
Find hunting trips
How does your hunting trophy get from Namibia to you?
Trophy hunting export from Namibia to your country - the whole process
From Namibia to your doorstep: Until your hunting memento reaches you, many steps take place in which various parties are involved. In order to show you in a transparent and understandable way what actually happens in the background and where costs occur that cannot be calculated beforehand because they depend on various factors, we would like to show you the entire value chain of trophy shipping:
Definition of the trophies
After you have booked the hunting farm has to apply for your hunting license for the game species at the Ministry of Environment and Tourism (MET) in Namibia.
Issuing of the hunting license of MET
The hunting farm organizes your personalized hunting license for your hunting trip.
Hunting
Now the hunt takes place with an experienced hunting guide, who carefully selects the game according to specific criteria. It is not allowed to export more than two trophies of the same game species.
Meat & Bones utilization
Meat & bones of the animal are utilized for consumption and distributed to employees and their families. For the guest business, the meat is also refined and used, e.g. for steaks, biltong, sausage, broth, minced meat, etc. 
Raw treatment of the trophies
The trophy is labeled for later identification. Depending on the desired finishing of the trophy
the skin is pickled in salt
the skull is boiled & bleached
Forwarder to taxidermist
Shipping company hands over raw trophies to taxidermist.
Preparation
The taxidermist agrees with you about your wishes and ideas, calculates the costs and prepares the trophy. The taxidermy takes from a few months to a year!
Trophy handover at your front door
The wait was worth it: you can finally hold the memory of your hunting experience in your hands. Please take into account that the last shipping within your country to your doorstep will will be charged additionally by the freight shipping company of your country.
This hunting guide will help you make the right decision for your hunting trip. Need more information?